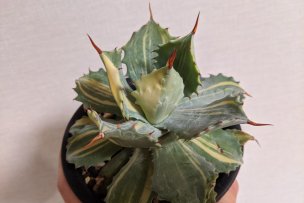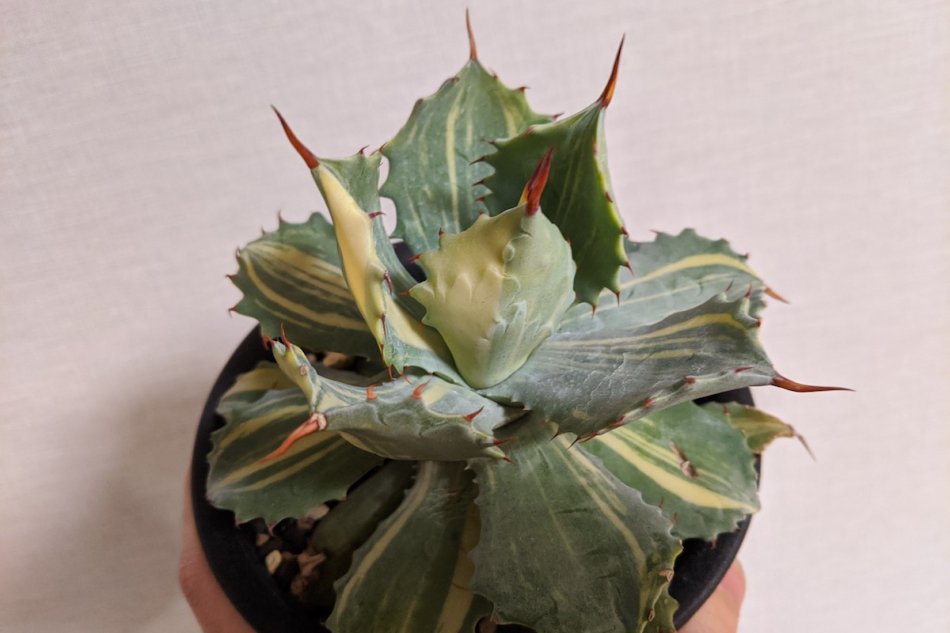 Beautiful medium agave. Agave isthmensis variegata 'YOUKIHI'.Introduction of how to grow and cultivation records.
About Agave isthmensis variegata 'YOUKIHI'
Variegated from of Agave isthmensis. There are various variegata types. It's a very beautiful Agave. Import stocks from overseas seem to have increased recently, and in 2019 there were many stocks of this form.
How to grow Agave isthmensis variegata 'YOUKIHI'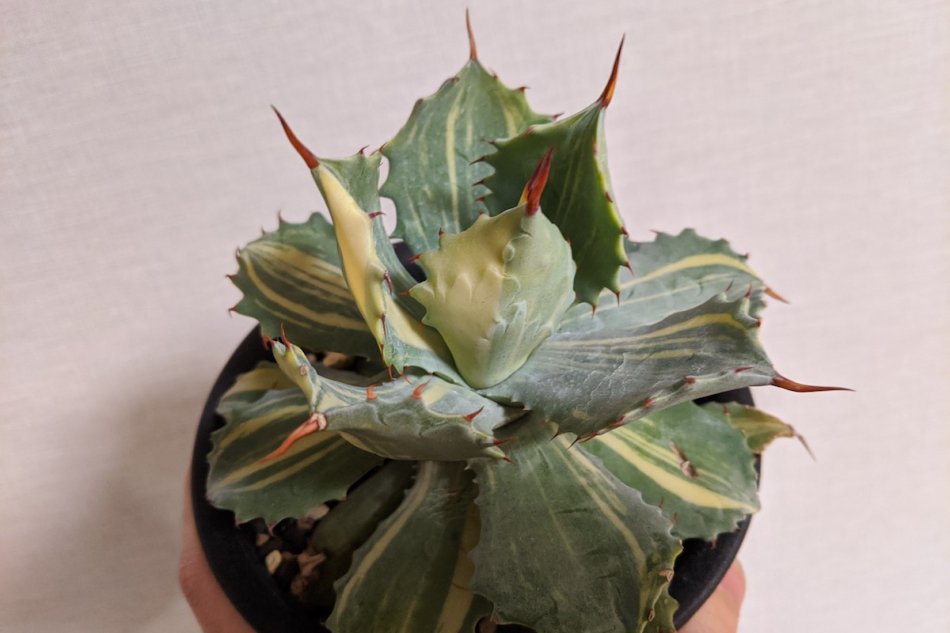 It grows from spring to autumn at a time when the temperature is high. Even during the winter, if the temperature is high, it will grow a little. During the growth season, when the soil dries, you will grow up energetically if you give plenty of water.
Sunshine conditions
Sunlight is necessary and becomes a closed strain when exposed to direct sunlight well. Agave does not tan, but in midsummer, if you want to get sunburned, you will have some light shielding. Moreover, it might be good even if the frequency of watering is reduced by somelighting in the case when the growth stops also in the midsummer type Agave.
Summer in Japan is very hot and humid!!!
About watering
Agave likes water and gives plenty of water when the soil dries. However, there is no problem even if watering is skipped a little because it is strong in the withering of water. It is not easy to wither with water.
Care and growth record of Agave isthmensis variegata 'YOUKIHI'
I purchased Agave isthmensis variegata 'YOUKIHI' in 2019. It was not a bare route though it was not known whether it was an import or a domestic growth stock. I thought that the place where the leaf tip was broken was a little bad handling. The stock itself seemed to be fine.
I think that the root moved though it planted in the medium, and the root management etc. by the waist water and the medicine were not done. The leaves have developed. The development of a new leaf is beautiful.
It is quite fast movement though it stands only for about one week from the photograph above.
Is the original stock solid or is it about five pieces fast growth? The leaves were rolled out for the 2019 season. When the temperature outside was below 10℃, we took in it with Agave potatorum, which is vulnerable to cold.
During the winter, the room is in high temperature and it seems to grow when water is given, but it manages it by the water cutting. I didn't give water to Princess Agave Yang, pictured on November 30. Perhaps because of that, i'm shooting with the same accuracy, but it hasn't grown much.
こちらも合わせてどうぞ