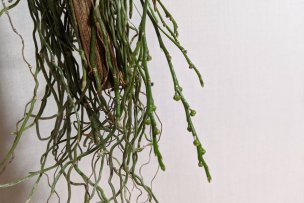 It is an introduction of the cultivation record and how to grow the urnofed leafless orchid, Chiloschista viridiflavawhich seems to be only rootless without leaves.
About Chiloschista viridiflava
About 20 species of Chiloschista are registered. It seems that there are many native to Southeast Asia. It is implanted by extending a slightly thick root from the central body. There are no leaves.
During the winter, give water to get up for a few days. From spring to autumn, water is given every day. Flowers bloom in spring.
When it dries, it becomes white and water does not feel like it. It becomes like a dry noodle. If it is too dry, the roots will die. When water is given, the color of the roots changes to green.
Care and growth record of Chiloschista viridiflava
I purchased it in 2020. He seems to be fine. It is said that it is relatively easy to grow, but it is easy to dry and it is said that it is good to apply the mist spray well. He told me that if it was too dry, I should put a plastic bag on it. The middle of the photo is Chiloschista viridiflava.
I tried to prevent drying by covering it with Tillandsia usneoides, but since it is difficult to spray, I have been growing it indoors at room temperature and humidity since the beginning of March. It soon dried out, and the tip of the root had withered. I use a mist every day to humidify it. Even during the winter, if the temperature is high, it would be better to give water.
At the time of purchase, there were some flower buds, but the flower buds increased and the part of the flower became larger. I'm looking forward to flowering.
こちらも合わせてどうぞ